New indoor fitting facility equipped with Flightscope Tour launch monitor,  12′ ceilings and 24′ of ball flight guarantees a great fitting experience at J.R.GOLF. All fitting sessions are conducted using the grip size of your choice on all shafts for maximum level of comfort and accuracy. 
 A Flightscope report containing all pertinent data collected during the fitting session is provided through email.
Whether you are getting fit for new clubs, or your existing clubs, you come to the right place.
Contrary to popular belief, the beginners and average golfers are the ones who BY FAR benefit the most from playing golf clubs that have the right length, flexibility, weight and from playing with the proper set makeup of golf clubs.
Tiger Woods was once asked what his best tip would be for beginners. His answer was "make sure you are playing with custom fit clubs,otherwise you will likely develop swing faults which could take years to correct." He himself has played with customized equipment from day one. His dad made sure of that.
From Golf Digest:
"Get fit for your clubs.
We beat you over the head with this topic, but there's a reason—we hate watching you piss away shots on the golf course. Every single tour player gets fit for their clubs. And for those who say they're not good enough for it to matter, horsehockey! That's like saying you shouldn't get pants that fit because you're overweight. Just like someone with a few extra pounds wants to look the best they can, you should want to play the best golf you can and you can't do that with tools ill-fitted to you. And while you're getting fit, don't forget the putter. It might be the most poorly fit club in your bag."
In October 2005, Tom Wishon quoted the following, and to this day, this concept remains the bottom line period when it comes to the performance of golf clubs:
" A clubhead with the correct loft, length, lie, face angle (woods) and swingweight  which is made from a tree growing in your backyard will perform better than any clubhead made from the latest NASA space-age material which has the wrong loft, lie, face angle and swing weight/MOI for the golfer. "
Bubba Watson who stands 6'3" can be found saying the following in an interview with Golf Digest :
"Try A Shorter Shaft
Twice I've been offered a spot in the Re/Max World Long Drive Championship, and both times I turned it down. It was nice to be invited, but I thought altering my swing specifically to get more distance for that one event might wreck my game. But I did toy with the idea, and even had Ping build me a driver with 5.5 degrees of loft and an extra-long, 48-inch shaft. The longer shaft, which many people assume is an automatic trick to generating more clubhead speed, didn't work at all. It threw my timing off, and I didn't hit the ball much farther even when I nailed it. I did much better with my standard 44½-inch driver, simply swinging a little harder.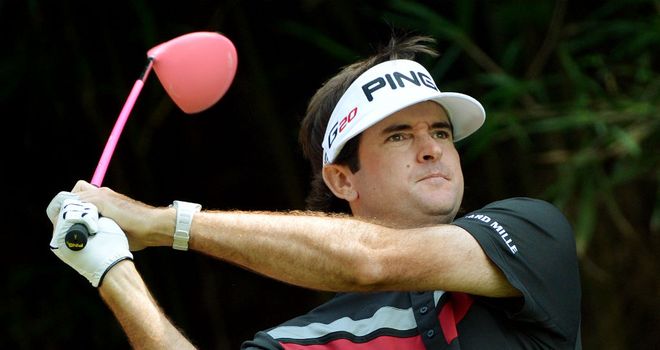 Trying a longer shaft is a popular suggestion these days, but most players should, if anything, try a shaft half an inch shorter than what's in their driver. (The average, off-the-rack driver shaft today is 45½ inches.) Tiger Woods at his longest used a relatively short 43½-inch driver, with a steel shaft to boot. You'll find it easier to hit the sweet spot with a shorter shaft, and you can go after tee shots without losing much control."
February 2017, Ricky Fowler wins the Honda classic after shortening his 44.5″ driver to 43.5″. He was quoted saying he shortened his driver to gain much more control while loosing only a little distance which was well worth the trade off. Now don't forget, 99% + of all off the rack drivers are sold at 45″ plus length.
Before buying golf clubs, a fitting session  is conducted initially in order to accurately assess the optimal set make-up that will yield the greatest results in terms of distance, accuracy and level of comfort by the golfer. When you buy a full set of clubs from J.R.Golf you are guaranteed the following as it relates to custom fitting:
-Reliable data from your golf swing will be collected using  Flightscope Tour launch monitor. An email data summary of the fitting session will be provided.
-Every club in your bag will have a purpose, no useless clubs.
-Every club will relate to each other in order to cover every distance your swing can. For example, if your average swing speed makes it impossible for you to hit a three wood farther than a five wood, then we don't make you a three wood.
-Your club lengths will match your height and swing abilities.
-The shaft flexibility of your clubs will match your swing speed and swing traits.
-The grip size and texture will both fit the size of your hands as well as your level of comfort.
-Your preferences in terms of club shape and cosmetic will also be taken into account.