Golfers around the world have rapidly discovered the benefits of custom fitted golf clubs thanks in part to the latest wave of ultra accurate launch monitors that have surfaced over the last few years. If there is one sport where custom fitted equipment can make a huge difference  it has to be golf !
Tiger Woods was once asked what his
best tip would be for beginners. His answer was "make sure you are
playing with custom fit clubs,otherwise you will likely develop swing faults which
could take years to correct." He himself has played with customized equipment from
day one. His dad made sure of that.
Contrary to popular belief, the beginners and average golfers are the ones who benefit the most from playing golf clubs that have the right length, flexibility, weight and from playing with the proper set makeup of golf clubs.
It is simply not possible for off the rack brand names to be able to accommodate the majority of golfers who have so many different combinations of physique, physical abilities and swing characteristics.
October 2005, Tom Wishon quoted the following, and to this day this concept is the bottom line period when it comes to the performance of golf clubs:
" A clubhead with the correct loft, length, lie, face angle (woods) and swingweight  which is made from a tree growing in your backyard will perform better than any clubhead made from the latest NASA space-age material which has the wrong loft, lie, face angle and swing weight/MOI for the golfer. "
Tom Wishon talks custom fitting in this short video:
Bubba Watson who stands 6'3" can be found saying the following in an interview with Golf Digest :
"Try A Shorter Shaft
Twice I've been offered a spot in the Re/Max World Long Drive Championship, and both times I turned it down. It was nice to be invited, but I thought altering my swing specifically to get more distance for that one event might wreck my game. But I did toy with the idea, and even had Ping build me a driver with 5.5 degrees of loft and an extra-long, 48-inch shaft. The longer shaft, which many people assume is an automatic trick to generating more clubhead speed, didn't work at all. It threw my timing off, and I didn't hit the ball much farther even when I nailed it. I did much better with my standard 44½-inch driver, simply swinging a little harder.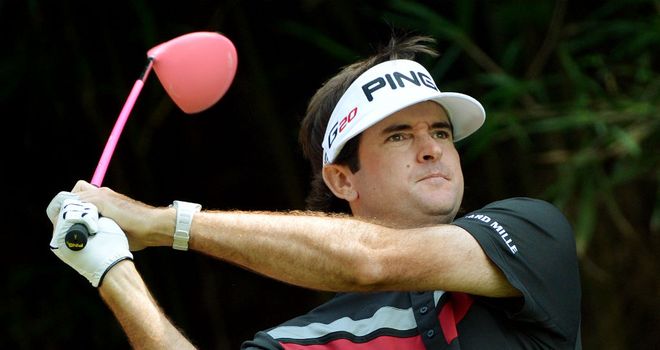 Trying a longer shaft is a popular suggestion these days, but most players should, if anything, try a shaft half an inch shorter than what's in their driver. (The average, off-the-rack driver shaft today is 45½ inches.) Tiger Woods at his longest used a relatively short 43½-inch driver, with a steel shaft to boot. You'll find it easier to hit the sweet spot with a shorter shaft, and you can go after tee shots without losing much control."
"" UPDATE "" February 2017, Ricky Fowler wins the Honda classic after shortening his 44.5″ driver to 43.5″. He was quoted saying he shortened his driver to gain much more control while loosing only a little distance which was well worth the trade off. Now don't forget, 98% + of all off the rack drivers are sold at 45.5″ plus length.
Here's another reality check when it comes to performance, the latest advance in technology regarding the new drivers  being promoted as "game changers"and how relevant this is for all of us mere mortal golfers.
USGA's 2017 Driving Distance Report Shows Little Has Changed
-The average driving distance including the PGA, European, Web.com, Champions and LPGA tours has increased approximately 1.2 percent since 2003 through the 2016 season, which equates to 0.2 yards per year.
-From 2003 to 2016, the PGA Tour driving distance has increased from 285.9 to 290.0 yards, a 4.1-yard increase.
-The European Tour saw just a 1.8-yard increase over the same time period, while the Champions Tour saw the largest differential with a 4.8-yard increase.
-Since 1980, scoring average has dropped across all seven major Tours by an average of 0.04 strokes per year.
Well that really isn't surprising to anyone who has been aware that for over the last 15 years + driver faces "spring effect" has been locked. So basically all drivers perform really well and pretty much the same now a days, what really matters for golfers is to have the best fitted driver length, loft, weight, flexibility lie angle, face angle, launch angle and spin for their swing.
And sadly but not surprisingly, it highlights how most prominent golf club manufacturers in the world have been misleading golfers year after year to believe  there is some major breakthrough technology wise that will get them an extra 10 yards off the tee. So lets see, the best golfers in the world on the pga tour  who average 110 mhp+ swing speed have only gained 4.1 yard on average off the tee over the last 13 years? You do the math as to how much you have gained over the course of those 13 years..
J.R Golf   is proud to offer a wide range of custom golf equipment options never available in any of the golf retail stores.
A fitting session  is always conducted initially in order to accurately assess the optimal set make-up that will yield the greatest results in terms of distance, accuracy and level of comfort by the golfer.When you buy a full set of clubs from J.R.Golf you are guaranteed the following as it relates to custom fitting:
-Reliable data from your golf swing will be collected using  Flightscope launch monitor.
-Every club in your bag will have a purpose, no useless clubs.
-Every club will relate to each other in order to cover every distance your swing can.
-Your club lengths will match your height and swing abilities.
-The shaft flexibility of your clubs will match your swing speed and swing traits.
-The grip size and texture will both fit the size of your hands as well as your level of comfort.
-Your preferences in terms of club shape and cosmetic will also be taken into account.